GREAT NEWS: Golden Gate Village Resident Council has a website! Please go here for all further updates and information: https://www.ggvresidentcouncil.org/
And please support the Golden Gate Resident Council's GoFundMe campaign to cover legal costs HERE
PRESS CONFERENCE AUGUST 6, 1PM: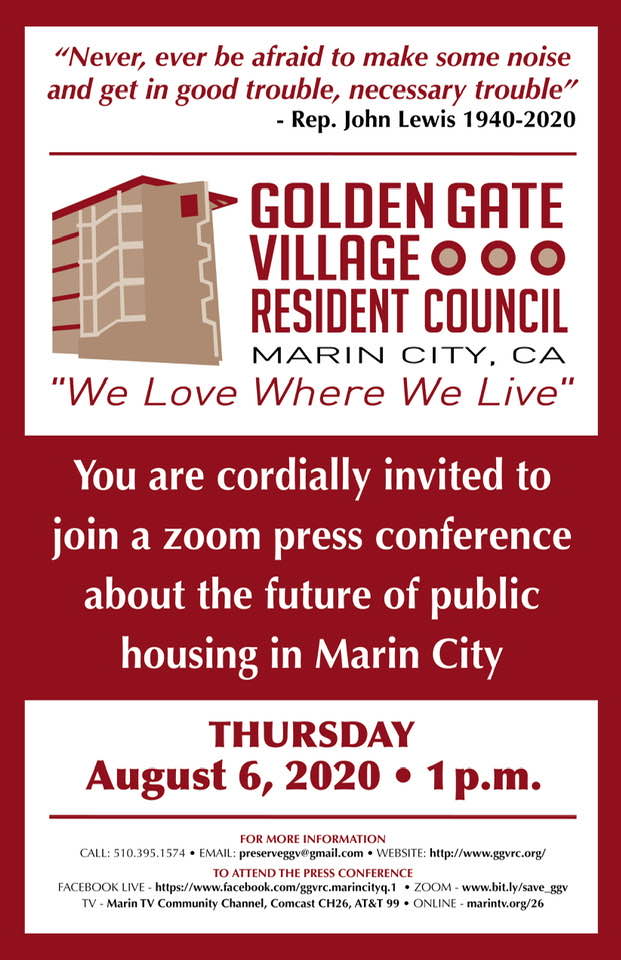 NEW: SIGN THE PETITION SUPPORTING THE RESIDENT'S PLAN
Physical Needs Assessment 2020
Grand Jury Report "The Clock Is Ticking"
GGVRC response to Grand Jury Report
Golden Gate Village in Marin City is one of the last remaining African American communities in the county. Over the years residents have demanded adequate maintenance and renovation of their homes. These calls have gone unheeded to the point where the most recent Physical Needs Assessment (PNA) states that "…the renovation costs do qualify the property for a demolition/disposition application." Essentially, years of deferred maintenance mean that it is so bad that it's better to tear it all down and start over. According to the PNA, it will now cost $90 million to renovate, and it will cost $98 million to demolish and rebuild. Five years ago when the last Physical Needs Assessment was completed, costs to renovate were only $16 million.
The county has long been involved in a process to determine next steps for the property. The Marin Housing Authority Commission (all five Supervisors plus two community members) have agreed on a vision for the property which includes demolition of 16 units, construction of 156 new units, private corporate ownership (not the residents) and vaguely supported guarantees that there will be no displacement of current residents. There is concern that the infrastructure in Marin City is not adequate to support any additional housing. The Golden Gate Village Resident Council has proposed its own plan, one that includes deep green retrofitting and renovation of the existing buildings and transforming the property into a community land trust, where permanent access to housing and the possibility of home ownership are a reality.

It is clear that the MHA's plan for the renovation and rehabilitation of Golden Gate Village does not provide for the self-determination of this community. It is clear that the county's plan does not provide for any reparations for a community that has been redlined and is facing extermination. Years ago the population of Golden Gate Village was almost all African-American. Years of systemic racism (gentrification, lack of investment in community, a county which is the most racially disparate in the state) led to where we are now which is a community that is only about 30% African American. And Black people do not feel safe in white Marin. Black people do not feel welcome in white Marin.

It is essential at this moment in time, when the Movement for Black lives is accelerating social change, that we hold ourselves accountable. We have to move past performative allyship, past holding Black Lives Matter signs and marching, and also become accomplices who use their privilege to crumble systems of oppression. We have two asks, both are urgent.

FIRST – Participate in the Marin Housing Authority meeting on Tuesday, July 21 at 1:30pm if you can. If not, email the MHA Commission (see below). The meeting will be held remotely, not in person. Refer to the talking points below, and use your own words. You will have up to three minutes to speak but plan for two. You can email your comments in advance and then ask to read them at the meeting. When the agenda has been posted we will share it here.
Demand that the County obtain a second opinion on the physical conditions at Golden Gate Village. The report they will be receiving, the PNA referenced above, has such dire consequences that a second opinion is warranted.
Ask, should the cost to renovate now actually be $90 million, how has a $16 million problem five years ago now become a $90 million problem?
Demand that the County go beyond its rhetoric and demonstrate that Black lives really matter in Marin by adopting a plan or vision for this property that includes some form of reparations and uplifts this community. Their current plan is silent on this issue. The residents have been asking for this HUD property to be converted to a Community Land Trust. The answer, up until now, has been that it is impossible. It has never been done, it can't be done, they say. Our answer is if not now, when?
If the remaining useful life of this property has expired, that the remaining useful life of this community not be extinguished when considering options for the property. The best laid plans to avoid displacement for renovation of public housing have often been failures. (Guardian article about GGV here).
Please email comments before 3:30pm Monday: Email the Supervisors at BOS@marincounty.org
Email the two community members of the MHA Commission at HHall@marinhousing.org and RSimon@marinhousing.org
AGENDA HERE
Attend the MHA Commission meeting on Zoom: go to www.zoom.us/ with a Meeting ID 947 4251 8384, password 352 533. Use the "Raise Hand" button to inform the moderator that you would like to comment.
To join by telephone, call (415) 473-7331. Press *9 to inform the moderator that you would like to comment.

SECOND: Sign the petition supporting the Resident's plan
THIRD: We will have a 📣MAJOR announcement coming soon about a press conference at 1 PM on Thurs, Aug 6 we hope you can attend. Please save the date. More info to follow.
LAST BUT NOT LEAST– Address the ways your community are unwelcoming, inaccessible, and unsafe for Black and Brown people.
Don't think that "inviting more Black people to our group/town/meeting" is the answer. Do the work to become an anti-racist. This is an excellent list of Anti-Racism resources for Marin County (developed by chloe.hoeber@gmail.com). Use it.
Join SURJ Marin (www.surjmarin.org).